The Books That Changed My Life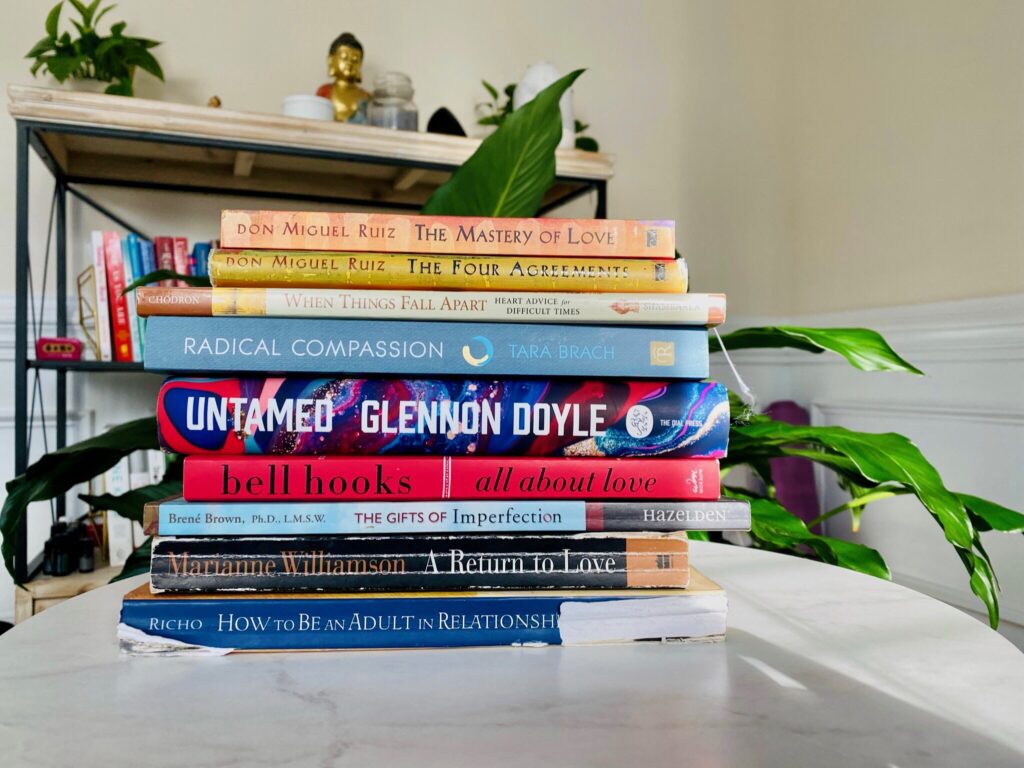 I'm realizing how important it is to share the books that have changed my life.
I believe everyone must always be reading and always be learning. There's a difference between trying to force information into your brain versus allowing yourself to be immersed in a book, to let the information sink in and to let yourself be inspired by what you are reading.
These books have changed my life and are the foundation for my work. When I say they have changed my life, I mean that through reading them I have experienced profound shifts in how I perceive myself, perceive the world and most of all these taught me about real, healthy Love.
I am a student of Love, not only a teacher. I am a student of LIFE and life is my teacher. I truly believe books are gifts and I plan to write some of my own in my lifetime!
If you're looking for a place to start on this list, I'd recommend reading Pema Chödrön's book! It would be the most supportive right now for so many people, along with Tara Brach's books. However, as you can see from the photo above, the two books that I have read the most are A Return to Love and How to Be an Adult in Relationships.
Happy reading, my loves! You can purchase any of the books mentioned below by clicking here.
THE BOOKS THAT CHANGED MY LIFE
1. The Mastery of Love: A Practical Guide to the Art of Relationship by Don Miguel Ruiz
"In The Mastery of Love, Don Miguel Ruiz illuminates the fear-based beliefs and assumptions that undermine love and lead to suffering and drama in our relationships." This book asks you to challenge any hidden agenda you have about relationships and calls you into higher consciousness. Fun fact: it's often the gift I give my clients!
2. The Four Agreements: A Practical Guide to Personal Freedom by Don Miguel Ruiz
"In The Four Agreements, Don Miguel Ruiz reveals the source of self-limiting beliefs that rob us of joy and create needless suffering. Based on ancient Toltec wisdom, The Four Agreements offer a powerful code of conduct that can rapidly transform our lives to a new experience of freedom, true happiness, and love." This book is a foundational book for being human! Everyone needs this on their shelf.
3. Radical Compassion: Learning to Love Yourself and Your World with the Practice of RAIN by Tara Brach
"In this heartfelt and deeply practical book, Tara Brach offers an antidote: an easy-to-learn four-step meditation that quickly loosens the grip of difficult emotions and limiting beliefs. Each step in the meditation practice is brought to life by memorable stories shared by Tara and her students as they deal with feelings of overwhelm, and loss, with painful relationships, and past trauma; and as they discover step-by-step the sources of love, forgiveness, compassion, and deep wisdom alive within all of us."
4. Radical Acceptance: Embracing Your Life With the Heart of a Buddha by Tara Brach
"Writing with great warmth and clarity, Tara Brach brings her teachings alive through personal stories and case histories, fresh interpretations of Buddhist tales, and guided meditations. Step by step, she leads us to trust our innate goodness, showing how we can develop the balance of clear-sightedness and compassion that is the essence of Radical Acceptance. Radical Acceptance does not mean self-indulgence or passivity. Instead it empowers genuine change: healing fear and shame and helping to build loving, authentic relationships. When we stop being at war with ourselves, we are free to live fully every precious moment of our lives."
5. How to Be an Adult in Relationships: The Five Keys to Mindful Loving by David Richo
"In this book, David Richo offers a fresh perspective on love and relationships—one that focuses not on finding an ideal mate, but on becoming a more loving and realistic person. Drawing on the Buddhist concept of mindfulness, How to Be an Adult in Relationships explores five hallmarks of mindful loving and how they play a key role in our relationships throughout life." David Richo is my mentor and the foundation my work rests on. He's a Buddhist Psychotherapist and actually breaks down what Love is.
6. Patriarchy Stress Disorder: The Invisible Inner Barrier to Women's Happiness and Fulfillment by Dr. Valerie Rein
"Dr. Valerie Rein has worked with hundreds of high-achieving women and discovered that the issues they all struggle with are not just personal—they're rooted in the ancestral and collective trauma experienced by women in the patriarchal world for millennia. In Patriarchy Stress Disorder, Dr. Rein describes how this trauma creates an invisible inner prison that holds them back from stepping into the full power of their authentic presence, unbridled joy, outrageous success, freedom, and fulfillment." Fun fact: I interviewed her on my podcast, The New Truth, episode 39 and 40!
7. The Surrender Experiment: My Journey into Life's Perfection by Michael Singer
"From the author of the New York Times #1 bestseller The Untethered Soul comes this thought-provoking, inspirational memoir on the magic that happens when one decides to let go of personal preferences and simply let life call the shots." I listened to this on Audible one year and there were times I had to pull the car over to replay some of the things that were said. This book is a guide for living a surrendered life!
8. The Gifts of Imperfection: Let Go of Who You Think You're Supposed to Be and Embrace Who You Are by Brene Brown
"New York Times best-selling author and professor Brené Brown offers a powerful and inspiring book that explores how to cultivate the courage, compassion, and connection to embrace your imperfections and to recognize that you are enough."
9. Untamed by Glennon Doyle
"Glennon Doyle, the beloved activist, speaker, and bestselling author of Love Warrior and Carry On, Warrior explores the joy and peace we discover when we stop striving to meet the expectations of the world, and start trusting the voice deep within us. Soulful and uproarious, forceful and tender, Untamed is both an intimate memoir and a galvanizing wake-up call." I am so grateful this book exists.
10. A Return to Love: Reflections on the Principles of "A Course in Miracles" by Marianne Williamson
"A spiritual guide in which Marianne Williamson shares her reflections on A Course in Miracles and her insights on the application of love in the search for inner peace. Williamson reveals how we each can become a miracle worker by accepting God and by the expression of love in our daily lives." Love without spirituality isn't love at all and often we are struggling in Love because it's ego-love, not soul-love. This book brings the truth of Love and again, calls you to higher consciousness.
11. All About Love: New Visions by Bell Hooks
"All About Love offers radical new ways to think about love by showing its interconnectedness in our private and public lives. In eleven concise chapters, Hooks explains how our everyday notions of what it means to give and receive love often fail us, and how these ideals are established in early childhood. "
12. When Things Fall Apart: Heart Advice for Difficult Times by Pema Chödrön
"The beautiful practicality of her teaching has made Pema Chödrön one of the most beloved of contemporary American spiritual authors among Buddhists and non-Buddhists alike. A collection of talks she gave between 1987 and 1994, the book is a treasury of wisdom for going on living when we are overcome by pain and difficulties." I read this book during the worst break up of my life and it kept me above water and helped me heal.
13. The Intimacy Factor: The Ground Rules for Overcoming the Obstacles to Truth, Respect, and Lasting Love by Pia Mellody
"In her first book in over 10 years, Pia Mellody—author of the groundbreaking bestsellers Facing Codependence and Facing Love Addiction—shares her profound wisdom on what it takes to sustain true intimacy and trusting love in our most vital relationships." Even if you think you don't struggle with Love Addiction or Codependency, this book gives you the essentials to have mature intimacy. Fun fact: I am trained in Pia Mellody's work!
14. Loving Bravely: Twenty Lessons of Self-Discovery to Help You Get the Love You Want by Dr. Alexandra Solomon
"In Loving Bravely, psychologist and relationship expert Alexandra H. Solomon introduces the idea of relational self-awareness, encouraging you to explore your personal history to gain an understanding of your own relational patterns, as well as your strengths and weaknesses in relationships. By doing so, you'll learn what relationships actually require, beyond the fairytale notions of romance. And by maintaining a steady but gentle focus on yourself, you'll build the best possible foundation for making a loving connection."